I was sifting through ebay seeing what the track & field memorabilia world had to offer. For other sports you see jerseys and shoes used by former superstars going for hundreds of thousands of dollars. Below are some interesting finds. While some are ridiculously expensive others like the Michael Johnson Time Magazine and famous Prefontaine
Distance Prodigy

Sports Illustrated aren't. If you have cool stuff you've collected like this please share! I was trying to hunt down a gold medal but could not. I wanted to know how much they went for.

$6999.00
A document signed on November 8th, 1953 by Jesse Owens permitting that he be filmed on the popular "The Ken Murray Show". The stationary says "Edgar Bergen-Ken Murray Television Film Productions, Hollywood" and Owens' signature is on the lower left.

$4499.00
Photo includes 7 autographs with Frank Shorter and Steve Prefontaine as the big names. The Steve Prefontaine portion is signed in blue ballpoint.

$3599.00
Original vintage Nike Waffle Running Shoes.

$2999.99
On May 6, 1954, Roger Bannister ran the first sub-four-minute mile in recorded history. This 8x10 autographed black and white media photo is of Bannister crossing the finish line with the world's first sub-four-minute mile.

$3000.00
New Autographed COA Usain Bolt Olympic World Record Track Spikes from the first time he broke the 100m Olympic World Record after his NYC record. Certificate of Authenticity included. Rare autographed pair and hard to find, shoes worn by Usain Bolt.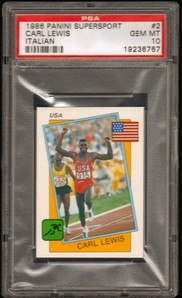 $2500.00
1986 Panini Italian Carl Lewis trading card. Didn't even know these existed and unsure why they are worth so much.

$2299.99
The Nike Air Zoom Hayward Men's Running Shoe celebrates Hayward Shoe… Nike began and where Steve Prefontaine ran some of his most beautiful races. With a simple, seamless interior and full-length Zoom Air, the Air Hayward is built to be light and fast just like Steve liked his shoes.

$599.99
Steve Prefontaine Sports Illustrated June 15, 1970, no label.

$399.99
This item is a January 3, 1955 issue of Sports Illustrated signed by former track and field gold medalist Roger Bannister.

$175.00
A 1996 TIME Magazine Summer Olympics Edition autographed by Michael Johnson.
http://www.ebay.com/itm/MICHAEL-JOHNSON-1996-OLYMPICS-TRACK-STAR-TIME-MAGAZINE-SIGNED-AUTOGRAPH-JSA-/200889625609?pt=US_Autographs&hash=item2ec5f46c09